Mom's Smart Way To Make Her Kids Take Screen Time Seriously
In case you haven't heard, screen time is a huge problem for kids today. Recent studies show 95% of teens own a smartphone or tablet now and 45% say they're online "almost constantly." And we also know that all that smartphone use is linked to more depression and less sleep, but that doesn't stop kids from getting in every minute of screen time they can.
Parents know that banning phones or devices isn't as easy as it sounds, but one tech-savvy mom found a way to get her kid to take their own time online and their digital privacy more seriously. Natasha Vianna, a communications and PR professional recently tweeted about her new rules for her daughter's screen time.
"My new requirement is that if my kid wants to download a new app, she had to write a one page report on the founders, company story and business model so that she understands how the app benefits from her use," Vianna writes. "This is what happens when your mom works in tech."
She makes a good point about the role of companies designing the technology. Most of them don't have kids' best interest in mind and some social media apps and games aimed at kids are even specifically designed to be addicting, so young users scroll for hours and make in-app purchases, or so they can collect personal data to sell off. Lots of adults know this, but kids and teens don't always get that, so this is an important lesson.
Natasha reports that her daughter wants to know why information about the app is hard to find and that she's developed a curiosity about addictive apps with mysterious backgrounds. So her plan is working!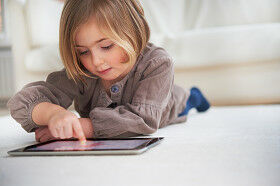 Charlie Munson
Want to know more about Charlie Munson? Get their official bio, social pages & articles on 92.5 WESC!
Read more