Football Team Invites Bullied Kid To Sit With Them At Games
A little boy who was bullied by other players and coaches at his youth football program's first practice has a whole new group of friends who have his back. After eight-year-old Taylan Orton, who has cerebral palsy, was in tears because the coach yelled at him and a fellow team member berated him, his mom shared her outrage in a Facebook post that caught the attention of Emily Buchanan, wife of head coach of Findlay High School's football team in Ohio.
Once they got word of Taylan's story, the team came to visit him at school and invited him to come hang out with them on game nights this season. The elementary schooler was thrilled by the cool high school players invitation and they saw how much good their influence could do. It really is a win-win.
"Honestly it was just amazing! Just to see the look on his face," Findlay quarterback Tanner Rickle says. "Football's an amazing sport and we're all taught by our coaches, teachers, and families to do the right thing and that was one opportunity to do that."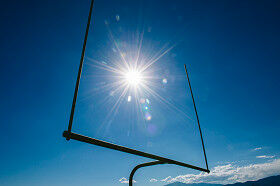 Charlie Munson
Want to know more about Charlie Munson? Get their official bio, social pages & articles on 92.5 WESC!
Read more