Mother Renames Her Son After Tattoo Artist Misspells His Name On Her Arm
A Swedish mother of two whose tattoo artist misspelled her son's name decided that it was easier and a lot less painful to legally change the boy's name rather than go through several painful laser removal sessions.
30-year-old Johanna Giselhäll Sandström, from Kyrkhult, Sweden, wanted to show her devotion to her two children, Nova and Kevin, by having their names tattooed on her arm. She visited a local tattoo shop, told one of the tattooists there what she wanted and gave him her children's name. He never asked anything about the spelling and instead just went to work on her arm. The woman didn't notice anything strange about the tattoo at first, but when she got home and had a closer look at it, her heart sank. Instead of 'Kevin' the artist had misspelled it 'Kelvin'.
Sandström said that she went back to the tattoo shop as soon as she noticed the typo, but the tattoo artist simply laughed and said that there was nothing he could do other than offer her a refund. All she could do now was go home and research ways to fix or remove the tattoo.
After realizing that the only viable solutions were laser removal sessions and surgery, Johanna and her husband decided that it would be better to simply rename their son. Luckily, the more they thought about the name 'Kelvin', the more they liked it.
The boy was only two-years-old at the time, so the name change didn't affect him very much, but now that Johanna is considering adding the name of her third child, Freja, on her arm, she promises to be a lot more careful than the first time.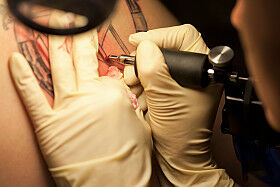 Charlie Munson
Want to know more about Charlie Munson? Get their official bio, social pages & articles on 92.5 WESC!
Read more